If you ask a Chinese film enthusiast about the biggest highlight in the film "In The Mood For Love," she would say without hesitation, "qipao!" Others may call it "cheongsam", a type of feminine body-hugging dress with distinctive Chinese features. Throughout the film, the main character, Su, wears 23 sets of dazzling qipao, that make her seem incomparably charming and graceful. Some film reviewers have commented that the qipao is the movie's most iconic prop. So, what exactly is a qipao? And how did it become a cultural phenomenon?
https://www.zhihu.com/question/27501292
When I was a kid, I always saw my mom and grandma wearing qipaos to attend weddings. The qipao is a classic dress that originated in 1920s Shanghai and is still an irreplaceable item in every Shanghai woman's closet. The history of this symbolic dress reflects the modern Chinese woman's determination to fight against gender inequality. After they were able to go to college, women started to design dresses that were both comfortable and showed their femininity at the same time. As an energetic and avant-garde city, the women of Shanghai were the first at the helm of this fashion shift. The most popular style of qipao is the modern one, which abandoned the loose, gloomy design of women's clothing in the early 20th century. Instead, the modern style has smaller sleeves and collars as well as colorful prints. Most qipaos iare tailor-made according to the different body shapes of each woman. Looking at old photos, many different women look fit and comfortable in a qipao.
http://www.xinhuanet.com/book/2017-07/04/c_129646402.htm
Born and raised in the birthplace of the qipao, Shanghai, my family and I are deeply attached to the style. In the 70s, my grandparents were both blue-collar workers in a clock factory. They were not rich, but my grandpa bought my grandma her very first qipao when they were both 24 years old. It was a tight-fitting, bright pink qipao with little flowers on it. After 25 years, my grandma tailored it to my mother's figure and gifted it to her for her wedding. Today, this qipao still sits carefully folded in the closet. Although neither my grandma nor my mom wears it anymore, it is a precious heirloom that epitomizes the strong family bonds and love that pass from one generation to another. Influenced by them, I wore a qipao at my cultural showcase in college and sang "Shanghai at the Night Time."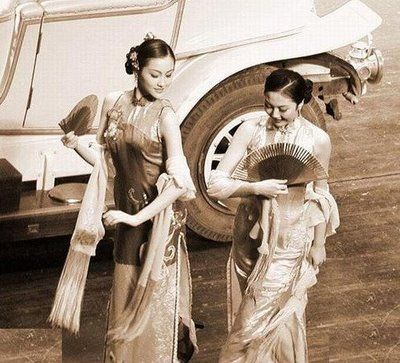 http://alphacao.blogspot.com/2009/02/chinese-fashion-old-shanghai-qipao.html
A lot of traditional practices have been forgotten by people over time, including local dialects and art styles. It may be difficult to preserve them physically as they become less functional. However, the beautiful memory associated with them can be kept and spread by the next generation. Unfortunately, unlike the Kimono, the qipao is no longer popular, especially in the eyes of the younger generation. It would be a pity if such a beautiful legacy gradually faded aways. However, Chinese Americans can can continue this tradition and wear qipaos sometimes on Lunar New Year. 7000 miles from the qipao's birthplace, people are starting to recognize how this stylish dress enriches their culture and reminds them of their heritage. Do you have any stories with a family heirloom or traditional garment that you'd like to share? Comment below!