While North America and some Asian countries went through a toilet paper pandemic, China was barely disturbed. What is it about the Chinese's relationship to the bathroom that did not lead to a quarantine fueled run for toilet paper? Here is a guide on how to approach using the loo, China-style.
Over or Under
In many places in China, public restrooms and households have completely avoided the question of placing the toilet roll over or under by using boxed napkins. These napkins are much stronger than the average facial tissue in North America and hold up well. There are also bamboo paper versions.

One thing you'll notice about these boxed napkins is that they are found on top of dining tables in homes, desks in offices and tables in restaurants as the Chinese believe that tissue is tissue and they are useful whether dining or using the loo. Vice versa, you will also find toilet paper rolls being used as restaurant napkins and facial tissues; however the napkin boxes are far more prevalent because families and clients like that they already come in individual sheets.
T.P. Popularity
Did you know that the toilet paper roll only just started rising in mass popularity in China? The travel-size pocket toilet paper only came on the market after 2000. In the face of this, it might shock you that toilet paper was actually invented in China. Paper has been documented as being used with the toilet since the 6th century A.D. but it was only for nobles and high ranking scholars. Even then, it was mass produced: by 1393, royals alone used more than 720,000 sheets of toilet paper per year.
Before toilet paper, things like leaves and hemp were also used. Wood bark and bamboo was also used for cleaning up. People globally were not surprised by a splinter accident while handling their business. Ouch. Non-noble and rural citizens used these methods for centuries.

Nowadays toilet paper is so popular that there are toilet paper thieves in public restrooms. If you go into public restrooms in certain cities you may have to go through facial recognition software before any toilet paper is dispensed. However even with the toilet paper thieves, China is so at ease with the idea of not using toilet paper that they would not have a hoarding frenzy like in North American countries.
How to Use the Toilet
Now that you know about the types of toilet papers and their history it's time to get you ready to use the toilet.
First things first while walking around outside, it is important that you bring your own toilet paper. Some restrooms will sell the travel sized packs, but some have nothing. The reason for this is that establishments, especially schools, think of toilet paper as a convenience that they are not responsible for. On the same note, bring your own hand sanitizer because there may be no soap. In some places there may even be no running pressured water in the toilet, so you'll need to fill a bucket of water or a ladle and pour it down the pipe--but you don't need to bring anything special to do that.
Since there are many old pipes and questionable drainage systems, most Chinese bathrooms are set up with an open trash bin to throw waste in rather than disposing of it down the drain. Besides used tissues, you will also find used sanitary pads or napkins. They are often laid open because it is wasteful to use extra toilet paper to wrap something that will become garbage. Heads up: it may get smelly.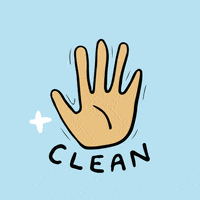 Via Nickkinling @duck_muscle
In traditional Chinese standards of cleanliness one should not touch anything besides their own clothes in restrooms. Don't touch the door, don't touch a flush button, don't touch anywhere that may have been contaminated from the bathroom and in some cases, this means not even wiping. If you ask the older generation of Chinese folks, they will tell you why: Drip drying on underwear and leaving toilets unflushed is not seen as dirty because at least the hands that they use to touch food and other people will be clean. Nowadays more people just touch things then wash their hands thoroughly.

On the plus side, in most large cities, especially in places where the occasional foreigner could come by, there is an on-staff sanitarian who makes frequent visits to the restrooms. Sometimes the sanitarian stays in the bathroom for most of the day, mopping up after about ten people use a toilet stall and flushing after every other person. When you go into one of those kinds of bathrooms you can see a chart with the picture of the sanitarian on duty and how many times they've been on duty that day. In upscale dining halls and malls, sometimes there will even be a satisfaction button that you can press or you can send a WeChat message to ask for assistance.



Asian Squat Toilets
The traditional toilets are more functional outhouses. They have a hole in the floor of a raised brick house that you squat over. In some places the "deposits" are used for manure
and fed to pigs.

A step up from this is the indoor-plumbing-friendly Asian squat toilets. Many squat toilets may not have great water pressure, buttons to press or any hook or place to leave your belongings. But if you are in cities, you'll encounter these.
This toilet has a rack to rest belongings, or even to sit small children on as they go into the stall with you. Remember to squat as low and wide as you can and aim towards the drain to avoid as much splash-back as possible. It is not uncommon to leave a squat toilet with sprinkled ankles. The squat toilets also tend to have puddles from those who could not aim or just from the accumulation of splash-back.
Where squat toilets really shine is doing the #2. When pooing in the squat loo, your body is in its most efficient position for load dropping. China also now has seated "bidet rear end" sprayer toilets popping up to increase cleaning efficiency after doing #2.
If you really need a no-frills western style toilet though, just head into the most accessible Western fast food eatery.
What do you think about using the toilet in China? Comment Below!